We provide several kinds of ground cover for both commercial and residential properties across Orlando and greater Central Florida including Schools, Daycares, Churches, Neighborhood HOAs, Property Managers, Pre-Schools and much more.
Types of ground cover include:
Wood mulch: an economical way to beautify your play area and provide a soft, cushioned fall zone.
Rubber mulch: long-lasting, low maintenance in a choice of colors
Synthetic Safety Turf: padded for playground safety. Looks like the real thing, but never needs mowing!
Poured-in-Place Rubber: maintenance-free soft pad you can customize in so many ways.
We handle all the details, including commercial-grade weed block and heavy duty plastic border timbers. Check out some of our recent projects and imagine how you can spruce up your play area!
Property Managers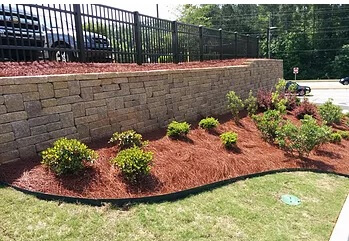 Don't forget about the other landscaped areas on your property. Check out our new, realistic synthetic pine straw ground cover. Looks and feels like the real thing — great for trees, hedges, and flower beds. Call or email today for a free sample!
We work with the area's best management companies including: Southwest Property Management, Sentry Management, Pinnacle Property Management, Leland Management, AGPM and many more.
Next Steps? We're here to help!
Call us at 407-695-8855 with any questions or for a custom quote for your ground cover needs, whether for school, daycare, church, neighborhood HOA or apartment complex. Or click the link below: